The Strix Unity SDK provides you with synchronization features necessary for online game development through the use of components and APIs.
Create online games at astounding speeds without worrying about networking/game synchronization.
What is the Strix Unity SDK?
Create an online game using easy to use libraries!
All the necessary client features needed for developing
your online game are provided to you via plugins.
Add game-specific networking functionality such as object replication,
RPCs, and property synchronization allowing developers to put
more time and energy into more important aspects of their games.
*The Strix Unity SDK can be used with both Strix Cloud and STRIX ENGINE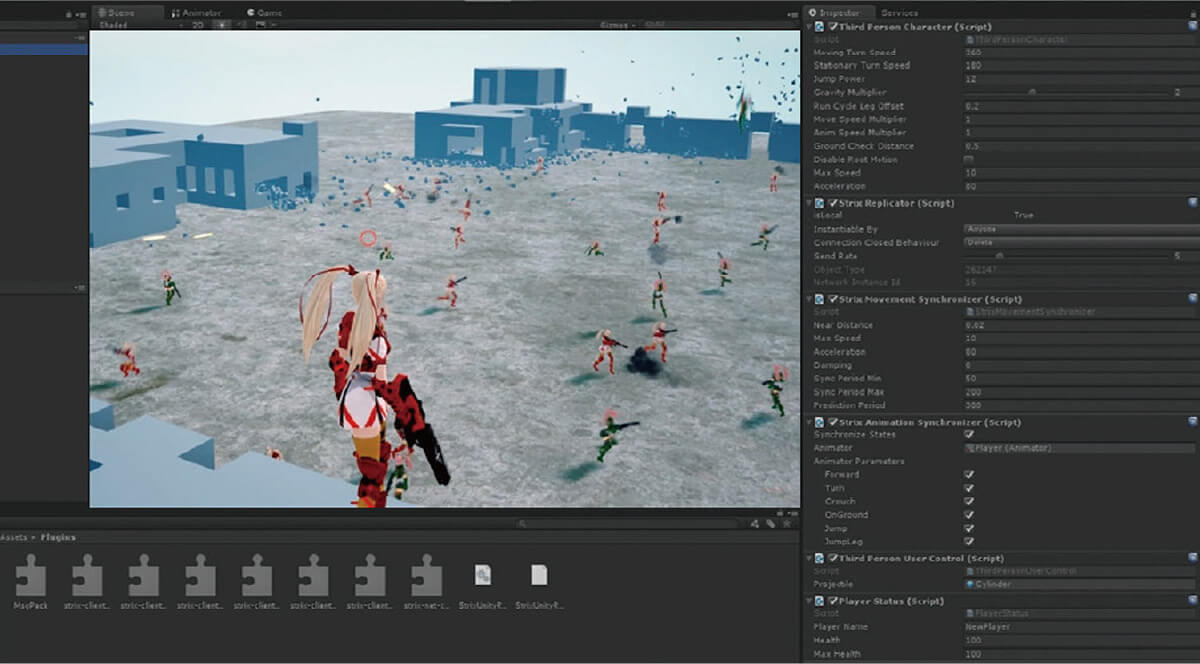 Platforms


The Strix Unity
SDK's main features
The Strix Unity SDK provides a highly expandable and flexible matchmaking features.
It includes an API for creating and matching rooms under your preferred conditions.
In the video above, you will be able to see how Strix's matchmaking feature allows two players to easily launch and connect to a room server to start a multiplayer game with the matchmaking features in Strix.
In Strix, by simply adding Strix Replicator components to game objects, you will be able to synchronize things such as positions, animations, physical behavior, etc. These synchronized objects are known as "Replicas".
There is no need to write any code to get your game online since everything can be set up within the inspector.
In the video above, you can see how characters with the Strix Replicator and Strix Movement Synchronizer components attached to them are smoothly synchronized.
カスタム同期
RPC

Remote Procedure Call
In addition to the Replica feature, the Strix Unity SDK enables variable synchronization and the use of RPCs (remote procedure calls).
In the Strix Unity SDK, a feature called Custom Synchronization is provided.
This feature can be used for scripts that perform input processing and when you want to perform more detailed synchronization processing.
In the video above, you can see variable synchronization at work when each player's health is lowered when they are hit by the other character's bullet. You can also see RPCs being used to call a function that plays an effect when the bullet collides with the other character.
Check Out This Online Game Developed Using Strix Cloud and the Strix Unity SDK
How to get started using the Strix Unity SDK
Set up an account and log in from the Strix Cloud Dashboard

You can launch a server from the Strix Cloud Dashboard.

Download the Strix Unity SDK from the Strix Cloud Dashboard and start developing online games today